Self publishing for Australian authors: What you need to have, know and do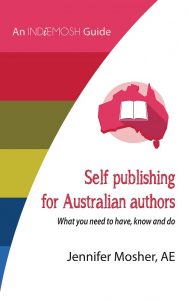 Are you or someone you know thinking of writing a book? Or in the process of writing? How are you planning on publishing? You might not want to hold out too much hope of a publishing contract – they're getting harder and harder to come by these days.
But thanks to the internet, the Kindle, the iPad and print on demand technology, self publishing is rapidly becoming the acceptable way for people to share their thoughts and ideas. However, the Australian publishing industry has been slow to create pathways for Australians to access the best ebook and print on demand options so readily available to our Northern Hemisphere counterparts.
Since 2009, I have been helping Australian writers bash down the barriers to self publishing so that they themselves could tread the self publishing path, have their say and leave their mark on the world. This book summarises my learnings (and many of my opinions!), and explores the many things you need to consider if you wish to venture down the self publishing path in Australia. Find out about ISBNs, print on demand, ebooks, formatting, editing, royalties and more.
Download a PDF sample of the Table of Contents and the Preface here: Self publishing for Australian authors – preview pages
Print versions
The MoshShop (AU$):
https://themoshshop.com.au/products/self-publishing-for-australian-authors for AUD$32.95, including shipping anywhere in Australia, using Visa, MasterCard or PayPal
Amazon (US$):
https://www.amazon.com/Self-publishing-Australian-authors-What/dp/1925529134/
Available to bookshops worldwide from Ingram – ask your local retailer.
If you prefer to purchase via direct bank transfer, please let me know via the form on my Contact page that you're interested, and I'll email you an invoice. As soon as it's paid and the funds land in our bank account, the book will be mailed. Your email address will not be used for any reason other than to send you an invoice.
Ebook versions
Available as an ebook for US$4.99 from 25 July 2016 here:
Amazon.com – for Kindle:
https://www.amazon.com/Self-publishing-Australian-authors-What-ebook/dp/B01GJT9K9W 
Amazon.com.au – for Kindle:
https://www.amazon.com.au/Self-publishing-Australian-authors-What-ebook/dp/B01GJT9K9W/ 
Smashwords – for iPad and Android: 
https://www.smashwords.com/books/view/640932
Google Play – for Android:
https://play.google.com/store/books/details/Jennifer_Mosher_Self_publishing_for_Australian_aut?id=S2idDAAAQBAJ
---
Simple Rules for Effective Business Communication
This free ebook is a must-read for all business people,especially new business people, to alert you to the many different ways you communicate about yourself and your business – quite often without even realising that you've communicated anything at all! In these days of 'branding' and 'image' we all need a few simple prompts to make us think about the message we're sending.
Available for Kindle here: 
http://www.amazon.com/ebook/dp/B00CQAJVVG/
Or for iPad and Android tablets (epub version) on Smashwords here: 
http://www.smashwords.com/books/view/71526    
---
Who Caught the Yawn? and Where Did the Sneeze Go?
Is your little boy a 'ranga' or a 'ginger'? Well, so is Max, the star of my two children's stories.
Join Max in Who Caught the Yawn? as he spends the day spreading his yawn around everyone he meets – everyone catches Max's yawn, until the end of the day, when it finds its way back to where it started. Follow Max as he spends a week trying to sneeze in Where Did the Sneeze Go? Everything, and I mean everything, gets up Max's nose, but it takes a whole week of near-misses until Max lets it rip in spectacular fashion! Brightly illustrated by artist Todd Sharp, these are great little stories about simple daily life, with predictable tag lines to help children join in the fun and learn to read without even realising that they're doing it. This two-in-one book is available from:
Amazon: http://www.amazon.com/Who-Caught-Yawn-Where-Sneeze/dp/0987483234/
Booktopia: http://www.booktopia.com.au/who-caught-the-yawn-and-where-did-the-sneeze-go–mrs-jennifer-mosher/prod9780987483232.html
Fishpond: http://www.fishpond.com.au/Books/Who-Caught-Yawn-and-Where-Did-Sneeze-Go-Mrs-Jennifer-Mosher-MR-Todd-Sharp-Illustrated-by/9780987483232