Description
Yep, it's the one with Elle Macpherson on the cover. Under the smallish headline of 'The Bush Era Begins'.
This edition of Time magazine seems to be a rarity. While its US counterpart for 30 January 1989 has George Bush senior on the front cover and is clearly marketed at the US market, this Australian counterpart – issue #5 – is clearly marketed at its much smaller Australian audience.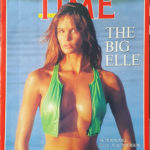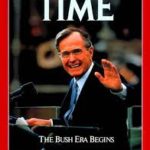 The articles in this rare Australian edition include (from the contents page):
p.44 – COVER: The Body, Australia's gift to world fashion wouldn't change a thing – For Elle Macpherson, at 23 a fashion phenomenon, the world is her oyster. Her "superbly contemporary architecture" and height – more than 183 centimeters [sic] have made her the perfect woman of the '80s. She is constantly jetting around the globe, fulfilling modeling [sic] assignments that gross her more than $A650,000 a year. It is a tough, demanding life for this woman who grew up in Sydney and became a model more by chance than by design – but clearly she delights in it, as do countless admirers.
p.5 – SCENE: Foster children with the AIDS virus – Families open their homes to the sick, A mother to disable youngsters, Rachel Rossow helps other mums make brief lives happy.
p.10 – UNITED STATES: With a talk from the heart, George Bush takes the oath of office
p.20 – WORLD: A moral dilemma for the Israeli army – Israeli soldiers complain about the harsh methods used to put down the Palestinian uprising
p.28 – ASIA/PACIFIC: As Feb. 15 nears, Soviet troops in Kabul begin withdrawing, leaving the Afghan army on its own
p.36 – BEHAVOIR [sic]: Working at not working so hard – As the Japanese begin to realize [sic] that stress and fatigue from long hours on the job can cause ill health, they try to set limits on their legendary work ethic. But it's not easy.
p.38 – BUSINESS: Knitting new patterns of economics – Experts try to understand the changes that have swept the US in the 1980s.
p.49 – MUSIC: Treats from a fun funk Detroit band – Was (Not Was) has a distinctive, daffy humor [sic] and a rhythmic sense that is honed until it gleams.
p.52 – CINEMA: A sexy comedy spotlights Spain's hot new director – With women on the Verge of a Nervous Breakdown, Pedro Almodovar has become the flavor [sic] of the month internationally. Now Hollywood is panting for his services.
p.54 – PEOPLE: A book is not for burning – Indian-born writer Salman Rushdie's prize-winning novel The Satanic Verses is torched in Britain but is selling briskly.
p.56 – EDUCATION: A manual for the Innumerate – Author John Allen Paulos believes inability in math leaves people at risk. His new book, Innumeracy, proves that the numerically inept don't have to be that way.
And of course with more than just that, this magazine provides an incredible walk down memory lane.
Page count: 56 (as numbered)
PLEASE NOTE:
This magazine is in good condition, but it has been read, and it is now more than thirty years old, so it's a little yellowing here and there. However, there are no loose pages, noticeable tears or creases.
The cover image photo is of the actual magazine you will receive – this is not a stock photo.
Price includes shipping within Australia. If you're overseas, a $5 surcharge will apply once you enter your shipping address to help cover the additional shipping costs.