My watercolours are sold unframed to make shipping easier and less expensive and to allow you to choose a suitable frame for your own purposes.
---
Oranges and Lemons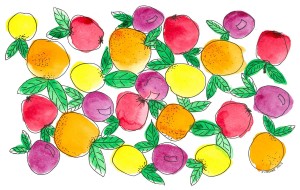 Watercolour and ink on watercolour paper, Oranges and Lemons is a 'colour first/ink later' work, the same as Bents Basin and Amazon River.
Although the main theme is oranges and lemons, there are also apples and plums thrown in to the mix.
This bright artwork is perfect for kitchens and utility items such as phone covers.
This small original was created in 2012 on watercolour paper using five isolated/single colours. The finished paper is 24 cm x 16 cm (9.5 inches x 6.375 inches approx)
This artwork ships unframed across the world; please choose whether you're in Australia or elsewhere.
---
Love Me Do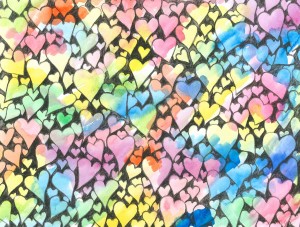 Love Me Do is a watercolour where the watercolour paper was washed with differing bright primary colours first, then hearts drawn over it in black watercolour pencil. Once I had enough hearts covering the page, I filled the gaps with black watercolur pencil, then 'watered' it in. This is the result!
The original is on slightly bigger than A4 sized watercolour paper: 32 cm by 24 cm (12.5 inches by 9.5 inches), including a border not visible here.
This artwork ships unframed across the world; please choose whether you're in Australia or elsewhere.
Or, purchase as leggings, a framed print, tote bag or travel mug from Redbubble: http://www.redbubble.com/people/jenmosh/works/21280697-love-me-do-opal-hearts
---
Bents Basin, Nepean River, NSW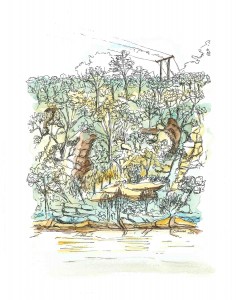 Bents Basin is a popular camping ground on the Nepean River, west of Sydney, in New South Wales, Australia.
This watercolour and ink work was done in onsite between Christmas and New Year, in the summer of 2012. It depicts the cliff face opposite one bank of the swimming hole.
The watercolour was applied first, then the ink added to the paper when the watercolour had dried. I don't like to draw then apply paint as I get tempted to 'paint between the lines'. From memory I used two colours, three at the most, thinning with water and mixing where a third colour was needed.
This original artwork has a generous border for matting when framing.