Whatever did we do before the internet?
A bit over a week ago I wrote about a snippet of a photograph of a man driving a tram which I'd found in a box of old photos belonging to my late in-laws (https://jennifermosher.com.au/tram-76-where-are-you/). For various reasons, most related to memory, I was pretty certain this belonged to Marjorie, my late mother-in-law. After posting a link to Facebook, friends weighed in with lots of different suggestions, some which I could rule out straight away, others which I investigated, or at least tried investigating.
Ultimately it was some ideas and clues from Sally Asnicar that helped unlock that the tram was most likely from the Manchester area, more specifically Eccles – exactly where my mother-in-law's family originated! Some more searching led to an awareness of Salford Corporation Tramways and the British Tramway Company Uniforms and Insignia website.
Gathering the pieces
This got me really excited (it doesn't take much 😉 ). Perhaps somebody in my mother-in-law's family had been a tram driver? I logged into Ancestry and started scouring hubby's family tree. Marjorie's mother, Eleanor Smith, had been born in the area in 1888 and Eleanor's father, Arthur Gilbody Smith, had been born in the same district, too:
Arthur Gilbody Smith b. 28 Dec 1867 registered at Barton-Upon-Irwell, Manchester, England

Eleanor Smith b. 10 Jul 1888 registered at Barton-Upon-Irwell, Manchester, England (married Peter Buckley)

Marjorie Buckley b. 5 Dec 1911 registered at Barton-Upon-Irwell, Manchester, England (married Keith Mosher)

Wayne Mosher b. mid 1900s, Australia (married me, Jenny Butler 😉 )
So – locations tied in: Salford, Barton and Eccles all being in the same area.
Then … in the 1901 UK census Arthur was noted as living at 55 Park Street, Eccles, Lancashire, England and his occupation was (wait for it …) 'tram car driver'!
On 2 March 1911 Arthur and his wife, Mary (Mary Elizabeth Chapman), left England for Australia. Sadly, Arthur died two years later in Swan Hill, Victoria.
If this was Arthur, then the photo had to be taken prior to 1911.
Other people's hobbies can be a surprising asset
I then discovered a page about the Salford Corporation on the British Tramway Company Uniforms and Insignia website here: http://www.tramwaybadgesandbuttons.com/page148/page152/page216/page216.html This page has some great photos of tram car drivers and their trams, all with the headlamp above the engine number. About half-way down the page is a marvellous photo of tram 95 and its driver and conductress. Surely the driver was the same fellow driving my tram?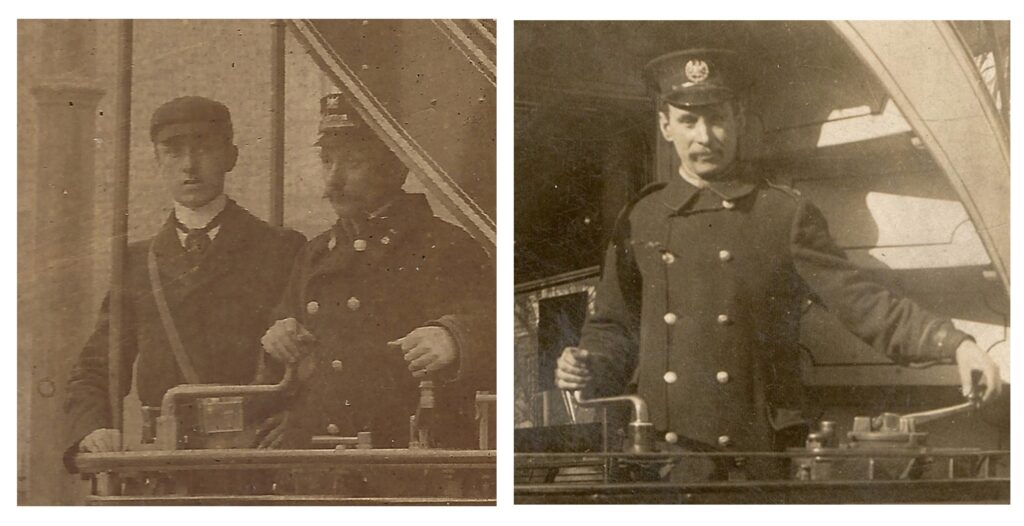 Could they both be Arthur? I emailed the site's owner, Ashley Birch, and presented my evidence …
Ashley was wonderfully helpful – and extremely knowledgeable. It turns out that the photo of tram 95 would have to have been taken after 1915, as conductresses didn't exist on the Salford network until 1916. (Prior to 1916 Salford only employed conductors i.e. men.) This meant that it couldn't be Arthur on tram 95 as he'd passed away in 1913 – in Australia. Ashley also advised that:
… [1916] is also when the new wreath-style cap badge was introduced, so the motorman [on tram 95] cannot unfortunately be Arthur.
One thing I can however say for certain is that the photo of Arthur [the photo I'm trying to identify] is definitely of Salford Corporation Tramways. Furthermore, it can be dated quite accurately as electric services only began in 1901 (4th October), and he is wearing a drooping-peak cap, a style which was probably superseded in 1903.
So, back to the family tree. Arthur was tram driving in 1901 and the cap on the driver I'm trying to identify is a Salford Corporation cap from the 1901-03 era. Arthur came from Eccles and the tram in the photo is almost definitely a Salford Corporation tram. All fairly neat and tidy, but I needed a clincher – just one more thing to make me believe …
Putting the pieces together
Some more research led me to Arthur's sister, Amy Templeman Smith, born 1880 and, sadly, died 1916. In the 1901 census, Amy and her husband, Horatio Grundy, were living at 21 Green Lane, Eccles. And Horatio's occupation? Photographer!
I have absolutely no evidence to prove that Horatio took this photo of Arthur and still no real evidence that the photo is of Arthur, but it does all fit a little too neatly together, doesn't it? I mean:
It's a great quality photo for its time.
The actual snippet I have is little more than 6 cms high, so it had to be taken by someone with quality equipment.
Arthur, as a tram driver, would not have been likely to have the funds to commission such a photo himself. And if it had been taken by a press photographer, or one hired for marketing purposes by the Salford Corporation, would Arthur have been given a copy of it? Probably not – not at the cost of photo developing in those days.
So, in the absence of further evidence to the contrary, I'm pretty confident that this is a photo of Arthur Gilbody Smith, my husband's great-grandfather, and that his grandmother, Eleanor Smith (Arthur's daughter), saved this scrap of photo with whatever other treasures she may have had as a precious memento of her late father who died all to soon, so far from 'home'.