Description
'Canyonlands' is an off-piste work for me. I used slightly watered down acrylic paint in three strong colours: an aqua green, an orange and a purple, and applied them with a brush in random blocks of colour. There was no plan, no picture in my mind, just a brush in my hand and a sheet of paper on the table.
The purple came last, being the darkest colour, and as I began to 'fill in the gaps' with that, it felt natural to place it where I did and so as I did, what are now cliffs and water began to emerge from the page.
Ultimately it became 'Canyonlands' as it reminds me of the incredible Antelope Canyon off Lake Powell in Utah.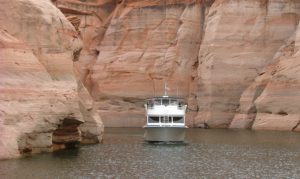 Rather than use canvas, it's been painted on a piece of 'recycled' watercolour paper (there are a couple of single-glaze, abandonded watercolour works on the back), and has a border of about 1 cm at the bottom, but a more generous border on the other three sides for matting. Please note it has been previously framed and the paper was folded back at the 1 cm mark. This shouldn't affect your future framing prospects, though.
Height: 24.6 cm; Width: 32 cm (A4)
This artwork ships unframed across the world.
Price includes shipping within Australia. If you're overseas, a $5 surcharge will be applied once you enter your shipping address.