Description
'Trinket Flower' is based on a plant given to me by cousins visiting from the UK (Hi, David and Rosie!). I loved the shape of the flowers and the way the light filtered through them.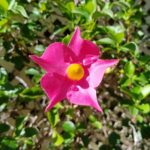 I mapped it out on the canvas, and started painting, but soon realised that it wasn't going to lend itself to just any old painting, it needed special treatment! So the next step was to start decorating the canvas base with old necklaces, paper clips, silver links and aluminium foil.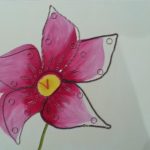 The jewellery and metallic items were glued to the painted canvas (Antique White was used for the background) and torn pieces of foil glued over the top of that, but rubbed into the shapes of the various items beneath.
The foil was then painted in purples and blues, with gold over the top on the raised parts. The gold was then rubbed back.
I then used several layers of torn tissue paper in various colours to suggest leaves and more flowers in the background.
The whole lot was then sealed with a gloss lacquer.
I do love this artwork, but my husband just doesn't get it. 🙁 Hopefully someone out there will love it as much as I do!
Mixed media and acrylic on stretched canvas, ready to hang.
Height: 40.5 cm; Width: 51 cm; Depth: 4 cm
Price includes shipping within Australia. If you're overseas, a $30 surcharge will apply once you enter your shipping address to help cover the additional shipping costs.