Last week I took delivery of a Wynston Sit Stand Desk from Officeworks. I'd ordered it online on Friday 16 June and it was delivered around 9.30 am on Monday 19 June. For starters – that's PD impressive in my book! Ordering it was a pretty quick decision based on a recommendation from my 'trusty sidekick', Ally Mosher, who had been using hers for a couple of weeks by that stage.
A few years ago, when sharing a workspace with the delightful Sarah McCloghry, I also got to share Sarah's Varidesk (thank you again, Sarah!). That was a pretty good experience, but Sarah's desk weighed in at 23 kg – and that's an awful lot of weight to add to a corner desk like mine which has no support where the sit stand desk was going to sit! So when I read that the Wynston only weighs in at 12 kg, it was a no-brainer.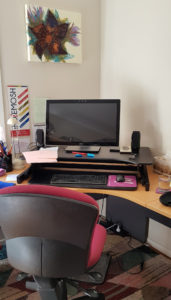 The one issue I'd found with the Varidesk was the keyboard/mouse tray just wasn't quite roomy enough for me, so when looking at the Wynston I figured I'd have to buy the large size to make sure I had enough tray space. I'm pleased to say I now do! What I also like about the Wynston's tray space – but which will annoy others – is that it's flat across the front, no shapely curving indent like the Varidesk, and it has a small finishing edge on it, probably for protection of the MDF, but that little lip helps stop my pens rolling off!
The keyboard tray pulls out and then pushes in when you need to get it out of the way. It will also stay out in the collapsed position, so that's handy. I was concerned that its degree of extension would be tied to the height of the desk, but it's not. 
So I've been using the Wynston for just over a week now and I have to say I'm pretty thrilled. In the sit position, my monitor is actually at a better height than when it was just on the desktop. I hadn't realised that I'd been stretching my neck muscles just that little bit and working at the wrong angle. I have a Dell all-in-one and although the monitor is large and tilts, I can't raise or lower it. So having it at a better height when I'm seated is a bonus.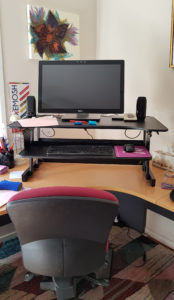 The Wynston has five height settings, and when I stand, I find everything quite comfortable at the top level. I'm about 170 cm tall (five foot six inches in the old language). The monitor could probably be a little higher at that point, but it's okay. However, for my height, I find the fourth highest level is best – it allows my shoulders to drop so that I'm not lifting my wrists to type. Again – bonus! But I find the monitor a little low at level four, so I tilt it back a bit so that it's facing up a bit and that solves the problem. However, if I was too much taller I don't think even the top height would be high enough for me, so if you're more than 180 cm tall, I'd recommend trying to see one in practice before buying online so that you have a feel for whether or not you'll need to build your desktop up.
To move the desk between its five height positions, you simply grab the release mechanisms either side of the top level of the desk and press in, then apply pressure to lower or lift the top level and the mechanism below collapses or stretches accordingly, lowering or raising the whole kit and caboodle. 
The only issue I have – and I seem to recall having a similar issue with the Varidesk – is that it will 'lift' off the desk a little when being opened up to the standing position. I thought perhaps that I needed to pull towards myself more, rather than lifting, but this morning I managed to start pulling the whole thing towards myself – so I quickly canned that idea! It's harder to do that with the Varidesk due to its weight. Once the day is in action and I'm putting it up and down, it moves a bit more smoothly, so it could just be that, like many of us, it's a bit too cold to move smoothly first thing in the morning! It may also be that in time the mechanism will wear in and move more readily.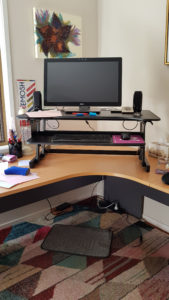 On the first day, I stood for around two hours before suddenly realising that I'd been standing too long – and that's something I've had to become aware of. I've dialled back my enthusiasm a little and am being more aware of how long I've been on my feet and returning the desk to the sit position and my bottom to the chair after about an hour. In total I'm probably getting three to four hours standing per day, on average, and that's at the end of the first full week. So I just have to remember to change position every hour or so and I'm right! 
Long story short, if you're thinking of getting a sit stand desk and you're worried about the investment, then start with the Wynston – the Varidesk is beautifully finished and probably a better product, but after just over a week's full experience, and after having used both products, there is absolutely nothing wrong with the Wynston in my book. 
(This is an unsolicited review and I have not been paid for it, nor do I earn any income from any of the links in this blog post. JM)