All we've had for the past seven months in this country has been politics, so I figured it was a good day to go back to happier times. In this post we look at six lead singers who helped change the musical landscape of this country and then met with an untimely demise. And while the post is called 'Six Aussie lead singers …' I do have to acknowledge that more than half of them were 'adopted' by us, as is our way. 😀
These are the men I remember – I am sure there have been others over the years. We've recently lost Chrissy Amphlett, various other lead singers and members of many other bands, but in this post I wanted to pay tribute to those lead singers from my time as a 'growing girl'.
So pour yourself a Ben Ean, a Palfrey Pearl or a KB and step back in time …
1. Graeme 'Shirley' Strachan
Lead singer of Skyhooks
Born: 2 January 1952 in Malvern, Victoria
Died: 29 August 2001 (aged 49) in Maroochydore, Queensland
Shirley was a real surfer boy – complete with beach-bleached blonde curls. He burst onto our screens as the lead singer of Skyhooks and once we understood why he was called Shirley (it turned out to be his nickname and not the legacy of some very cruel parents!), we embraced him and his interestingly-dressed band wholeheartedly. It didn't hurt that one of their early singles was 'You Just Like Me Coz I'm Good In Bed' – covered later in concert by John Mellencamp, among others.
Shirley was killed in a helicopter accident in Maroochydore, Queensland. He had his fixed wing pilot's licence and was in training for his chopper licence when he died.
His ashes were scattered in the sea by his wife, Sue, following a beachside funeral.
2. Steve Gilpin
Lead singer of Mi-Sex
Born: 28 April 1949 in Wellington, New Zealand
Died: 6 January 1992 (aged 42) in Southport Hospital, on Queensland's Gold Coast
Steve Gilpin was one of the sexiest men I had seen in rock 'n roll, and was even better in real life with Mi-Sex at the Comb and Cutter Hotel, Blacktown, around 1979-80 (and affectionately, or rather, disparagingly known as the 'Kerb and Gutter Hotel' by us locals).
Mi-Sex hit the charts big time with 'Computer Games' and I really couldn't name another song they did! But Gilpin was sexy and that was all I really cared about. 😀
Sadly, he died all too young following a car accident on his way home to Mullumbimby. He received head injuries in the accident in November 1991 and spent several weeks in a coma before passing away in Southport Hospital just after New Year in January 1992. It must have been an awful time for his family.
He is buried on his property.
3. Ronald Belford 'Bon' Scott
Lead singer of AC/DC
Born: 9 July 1946 in Forfar, Angus, Scotland
Died: 19 February 1980 (aged 33) in East Dulwich, London
Who can forget singing 'It's a long way to the shop if you want a toilet roll …'? Or the more drunken, late-night version: 'It's a long way to the Cross if you want to (blank) a moll …'?
Apparently, Bon was not the first lead singer of AC/DC – that honour went to a fellow named Dave Evans. Whatever happened to? Bon was also not the last – he was successfully replaced by Brian Johnson following his death after a big night out in London. Original thought was that he had choked on his vomit, which hasn't been totally ruled out, but his death certificate refers to 'death by misadventure' and 'acute alcohol poisoning'.
Sadly, he died alone in a car parked outside 67 Overhill Road, East Dulwich, London (for all the pilgrims). His friend had sat him in the car to sleep off his alcohol intake from that evening, but when he returned the next day, Bon was lifeless and pronounced DOA at hospital.
He was cremated and his ashes brought home to Fremantle Cemetery, Western Australia. His gravestone is now on the National Trust list of heritage places and his gravesite is reportedly one of the most visited graves in Australia.
4. Marc Hunter
Lead singer of Dragon
Born: 7 September 1953 (he would have been 60 today – happy birthday, Marc!) in Taumarunui, New Zealand
Died: 17 July 1998 (aged 44) in Kiama, NSW
It must be something about those Kiwi men, but I thought Marc Hunter was pretty damned hot, too! That kick at the beginning of 'April Sun in Cuba' got me every time. Check it out here:
Following a heroin addiction in his younger days, Marc was diagnosed with throat cancer in 1997. Despite undergoing various forms of traditional and alternative treatment, he passed away in Kiama in July 1998.
He left behind is wife, fashion designer Wendy Heather and (from what I can tell) three children: two from his marriage to Wendy and one from a prior relationship.
5. Michael Hutchence
Lead singer of INXS
Born: 22 January 1960 in Lane Cove, Sydney
Died: 22 November 1997 (aged 37) in Sydney
While I liked INXS's music, I wasn't personally a big INXS or Michael Hutchence fan. However, as the years have passed I've come to better understand and appreciate his magic and his resemblance to Jim Morrison.
Despite initial suggestions that he had died from a sexual exercise involving a belt around his neck and a fire door, the evidence from those who spoke with him in the hours leading up to his death and other evidence supplied led Coroner Derek Hand to rule Michael's death a suicide.
Michael left behind a string of broken hearted ex-girlfriends and a devastated Paula Yates, mother of his only (that I'm aware of) child Heavenly Hiraani Tiger Lily.
6. Ted Mulry
Lead singer of the Ted Mulry Gang (aka TMG)
Born: 2 September 1947 in Oldham, Lancashire, England
Died: 1 September 2001 (the day before his 54th birthday) somewhere in Australia
Who can forget 'Jump in my Car'? Such a great song even The Hoff did a cover version!
And then there was 'Dark Town Strutter's Ball' – a rocked up remake of a song first published in 1917. Those were the days – days of disco balls, mullets, and too-tight high-waisted flares.
Ted was one of your good old, straightforward, no mess rock and rollers. Out the front, solid guitar, solid band, solid songs. I saw TMG live at the Hordern Pavilion as a 14 year old – my first rock concert (along with Sherbet and John Paul Young – ah, memories!). I then saw JPY, TMG and a few others live on the floating barge moored off Milsons Point at what was probably an Australia Day concert in the mid-to-late 1970s. TMG was one of those value-for-money working class bands.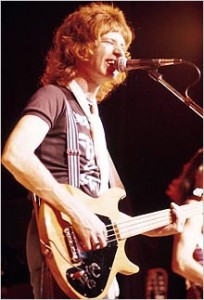 Ted announced that he had terminal brain cancer in early 2001 and sadly passed away the day before his birthday, later that year.
~ ~ ~
Thank you for the music, Gents. You made this little girl's teen years very happy ones.