Description
In 1975, I painted an acrylic on ordinary paper of a bend in the Amazon River from a picture in my high school geography textbook. It was an exercise in painting block colours and using black splotches to get depth and dimension. I rediscovered that A4 painting in my papers in the early 2000s and it is now framed and hangs on my bedroom wall where it has been for more than a decade and a half.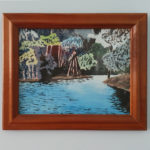 Since 2003 this early work has become my muse. I have recreated it:
in watercolour (insipidly)
in acrylic with tissue added to create a textured 3D effect (disastrously)
in chalk pastel on textured paper (okay but not great)
as a collage using old chocolate wrappers (painfully unfinished and no good for my waistline!)
and finally in this pen and watercolour example on cross-textured Canson paper. This is a totally different work to the original (and the versions in-between!), but one of the few efforts over the years which I can look at with pleasure.
Like most of my ink and watercolour works, this was laid down as colour first, ink after. It reaches almost to the edge of the paper, so there is little matting room when you're considering your framing options. I apologise in advance for that!
This artwork ships unframed across the world.
Price includes shipping within Australia. If you're overseas, a $5 surcharge will apply once you enter your shipping address to help cover the additional shipping costs.
—
Don't want the original? Buy coffee mugs, diaries and more utilising this image from my Redbubble portfolio here: https://www.redbubble.com/people/jenmosh/works/21280139-amazon-river