Description
The concept of 'Dos por favor' originated during an art lesson with my friend, Tina Frost Clayton. She asked us to draw something – anything – but quickly. I looked at my left hand, put up my thumb and forefinger, and 'Dos por favor' was born!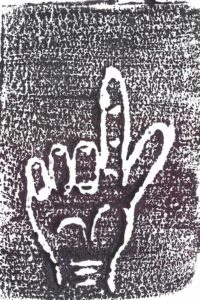 That original sketch resulted in a stencil which we then printed using different inks and papers and that in turn has resulted in several different artworks, of which this papier mache hand is one.
Technically, it took a while to figure out. All I had in mind was the start – I had no idea how it was going to end. And even as I was making it, I had no idea how to mount it or decorate it.
Ultimately I painted it black, added a coat of silver acrylic over the top and then sealed it with three coats of Cabot's Polyurethane bench top sealer and … voila! 'Dos por favor' in 3D!
The really fun part about this sculpture is watching people's faces when they pick it up. It looks heavy, but only weighs 57 grams. That's right – barely two ounces!
Height: (just under) 20 cm
Width: 17 cm (the thumb extends past the base)
Depth: 14 cm
Price includes shipping within Australia. If you're overseas, a $30 surcharge will apply once you enter your shipping address to help cover the additional shipping costs.
Note: There is a grain if rice trapped inside it which you will hear if you shake it around a little. I used rice in a glove as a support in my original modelling and somehow a grain, possibly two, got caught. So if you think you're hearing something rattle inside – you'd be right! 😉