Description
Mushroom Bowl was an idea I had but I kept forgetting to get started on it. Eventually I found the right bowl support for the job and – voila! Here she is, and isn't she awesome?
Mushroom Bowl has been made entirely from used mushroom bags. I'm the only one in the household who eats mushrooms, so I was rather surprised at how many bags I'd collected! I have a basket (made from recycled vertical drapes woven into a box shape, of course) full of used brown paper from different things:  mushroom bags, Bottle-O bags (I'm please to say I have more mushroom bags than Bottle-O bags!), other brown paper bags and brown paper from the books which arrive for legal deposit for my IndieMosh business.
I began by sorting the mushroom bags by print design. I was surprised again at the number of different mushroom bag print designs that are out there! I've never really looked at them. They say 'mushroom' on them somewhere and they all have a similar, familiar shape and pattern, but … the different brands are printed on different types of brown paper, the designs are different (although I sense that there's either been some plagiarism or else two or three designs come out of the same factory) and so you can actually collect a variety, depending on where you shop.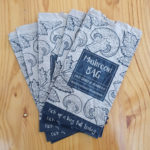 I chose a particular bag type for this bowl, and there will likely be another one made with this pattern on it before I move to one of the other designs.
If you plan to use this for your mushrooms, or any other food, then I recommend lining it with a paper napkin/serviette first, just to protect both the bowl and your mushrooms from each other.
PLEASE NOTE:
Lollies, candy etc. are for perspective purposes only – item ships without these. (Basically because they'd be really, really stale by the time you received them!)
Price includes shipping within Australia. If you're overseas, a $15 surcharge will apply once you enter your shipping address to help cover the additional shipping costs.
—
MUSHROOM BOWL DETAILS:
Diameter: 20 cm
Height: 8.5 cm
Weight: 31 gms (0.03 kg)
—
This series of papier mache bowls is created from self-supporting papier mache, bar the base which has been strengthened with a piece of recycled corrugated cardboard.
All bowls are made from a combination of recycled office and other paper, and some contain new paper for decorative purposes. The occasional bowl will also incorporate other media such as beads etc. The bowls are created using PVA glue, Bondcrete and acrylic sealer.
Each bowl is unique.
The bowls are decorative only – while they are sealed and can be wiped clean with a damp cloth, they should not be immersed in any liquid, nor should they be placed in the dishwasher, oven or microwave.
While they've been sealed, I don't recommend using them as a storage bowl for fruit where the skin is intended to be eaten e.g. plums, apples, grapes etc. Thicker skin which will be peeled should be okay e.g. oranges, bananas, rockmelon etc.
No bowl is completely round, nor completely flat. While the structure starts off reasonably straight, it slowly takes on its own dents and warps as it grows.