I want my two hours back. Seriously.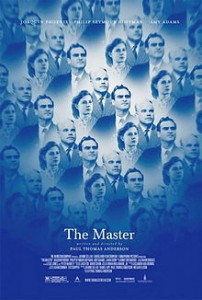 If you've ever read any of my book or movie reviews, you would know that I generally don't give bad reviews – if I don't have something nice to say, then I don't say anything. I would rather steer people towards something they are more likely to enjoy, than steer them away from something they probably won't. But today I'm making an exception.
Last night we hired The Master, the Philip Seymour Hoffman/ Joaquin Phoenix movie which is supposedly based around the idea of the birth of Scientology (if I hadn't known I wouldn't have guessed).
Hoffman and Phoenix were brilliant, and well supported by Amy Adams as Hoffman's wife, but the movie let them down. According to Wikipedia (at http://en.wikipedia.org/wiki/The_Master_(2012_film):
When he [Paul Thomas Anderson] first began writing the script he had no idea what it was, where it was going, or where it would end up, but he kept on working on it and it came together.

Yeah, sorry Paul, but after two hours of watching and wondering, I am quite decided that you should have kept working – it still didn't come together.
Storytelling, whether arthouse or otherwise, still needs to say something. This story didn't say anything! There was a beginning, and a middle. But no end. There were scenes that made no sense. There were scenes that seemed to be there just for the sake of them. You don't need to pander to your audience all the time, but you do need to explain some stuff. For instance, the scene at the end where Pheonix's character takes a phone call from Hoffman's character in a theatre was, according to Wikipedia, apparently a dream. At what point were we told that?
Again, Wikipedia reports:
The film has received mostly positive reviews. Review aggregate website Rotten Tomatoes reported that 86% of critics gave the film positive reviews … with a rating average of 8 out of 10. The consensus reads, "Smart, powerfully acted, beautifully filmed, and solidly engrossing, The Master extends writer/director Paul Thomas Anderson's winning streak of challenging films for serious audiences."[57] At Metacritic … the film ended up receiving a rating average of 86, based on 43 reviews, considered to be "universally acclaimed".[58] Kenneth Turan of Los Angeles Times gave the film a positive review, praising both Anderson's directing and Phoenix's performance, … About the film itself, he stated: "The Master takes some getting used to. This is a superbly crafted film that's at times intentionally opaque, as if its creator didn't want us to see all the way into its heart of darkness."[59] Lisa Schwarzbaum of Entertainment Weekly gave the film a perfect "A" grade, stating: "It's also one of the great movies of the year – an ambitious, challenging, and creatively hot-blooded, but cool toned project that picks seriously at knotty ideas about American personality, success, rootlessness, master-disciple dynamics, and father-son mutually assured destruction."[60]
Well, I'm sorry, but if not being able to get all that from this movie makes me stupid, then so be it. Instead, I will happily let you know the movies I have enjoyed over the last few weeks in preference to this beautifully filmed load of rubbish:
Crazy, Stupid Love
Steve Carell and Ryan Gosling (and his pecs) are a treat in this.
The script is good, the plot quite complicated and a little far fetched, and the whole thing is, of course, a fantasy, but what a fantasy! Has there ever been a red blooded man who didn't want know the secret to getting countless women to simply say 'Yes' at the right moment?
This is one of those little treats that you can't walk away from once you start watching it. This is entertainment. Albeit reasonably light, but certainly a lot more worthy of the effort than The Master. Highly recommended.
Arbitrage
Richard Gere takes us on the journey of a man just holding it all together. He is trying to sell his business, but the stars just won't line up for him. As the days pass, it's just one more piece of bad news after another. Finally, he pulls it off, and he's in the clear. But at what cost?
Arbitrage, put simply, is about trading. About buying and selling. And it's interesting to see what Gere's character has had to trade in this movie.
Susan Sarandon gives Gere a run for his money in a relationship somewhat different to the one they shared in Shall We Dance? Great idea, great plot, great script – and great drama. Highly recommended.

Argo
Another movie worth sitting through – drama, intrigue, action, and Ben Affleck's pecs – ever-so-briefly – plus the ever-increasing John Goodman and Alan Arkin who delivers the best line of the movie when asked what 'Argo' stands for. (And no, I'm not going to tell you. If you don't know, then you'll just have to watch it!)
I can't imagine the terror of the embassy staff as the embassy was broken into – it's funny the things you read in the papers or see on the news and you know that they're not good, but it takes a movie to bring them to life so that you can actually understand the whole experience through someone else's eyes.
Argo – watch it yourself!
Opinionated blogging. It's at the top of the page. 😀