Description
'A River Ran Through It' is a pretty topical painting at the moment, considering the drought Australia has faced these last few years. Mind you, my personal opinion is that we look at drought the wrong way – we should be seeing it as the normal state of this country and the rains as the abnormal weather condition, and adapting our lifestyles accordingly. But I digress … (opinionated blogging – it's at the top of the page!)
The inspiration for 'A River Ran Through It' came from a scene in Bunya Productions' series, Mystery Road. I was so stunned by the effect of watching Aaron Pedersen striding through the heat haze rising from an Outback road I actually photographed the TV in an attempt to capture it!: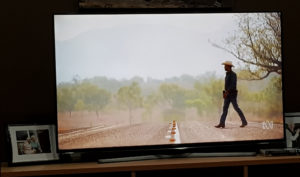 If you look closely, you can see a mountain range in the background. Anyway, I started painting and for once I used brushes – this was going to be such a soft scene that I felt credit and sim cards wouldn't help me achieve what I wanted. So I began at the top, with the sky, then worked up the mountains, then the ochre of the ground. I started placing trees, but was struggling to work out how to recreate the road – nothing I tried seemed 'natural'. It all looked like a painting with a road leading out the bottom of it simply to entertain the viewer.
In the end, I gave up on the road and somehow a creek came to mind and I found it working its way across the bottom of the picture. Obviously there would have been a lot more water in it in times gone past, hence the title which is, of course, an adaptation of 'A River Runs Through It' – the 1992 movie based on the 1976 book by Norman Maclean.
I left it for about a year because it just wasn't quite doing it for me, then one day added a couple of highlights to the rocks in the creek bed and then that made the difference. So here it is – 'A River Ran Through It'!
Acrylic on stretched canvas, ready to hang.
Height: 40 cm; Width: 80 cm; Depth: 3.8 cm
Price includes shipping within Australia. If you're overseas, a $30 surcharge will be applied once you enter your shipping address.