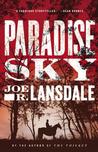 Paradise Sky by Joe R. Lansdale
My rating: 5 of 5 stars
I bought the Kindle version of Joe R. Landsdale's Paradise Sky after seeing a sentence posted on Facebook by an author friend, Pemulwuy Weeatunga. Pem was highly amused by one of the lines in the book, and it amused me, too, so I asked him what he was reading. He told me the name of the book and so I downloaded the Kindle preview. I found it a little hard to get into – it wasn't unenjoyable, just unlike anything I'd read before – but by the time I got to the end of the preview, I had to hit that 'Buy' button!
This book won't appeal to everyone – the humour is deliciously off-beat, the writing is fast paced yet relaxed, and it's historical fiction of a different kind – but it was one of the most original, entertaining pieces of educational fiction I've read in years. Sure, I'd suspect historians would question the integrity of some of the history lessons in there, but as an Australian, I learned things about American history that I never would have been interested in learning had I not read Paradise Sky – things such as who the Buffalo Soldiers were and why they were called that. That's not something Aussies get exposed to. Many of us 'more mature' ones would know the term from the Bob Marley song, but outside of that how many of us would know it was actually real term? And why?
Mr Landsdale writes with a warm heart, a great sense of humour, and a marvellous way of mixing fact with fiction. And I do like entertainment that educates, especially when that education is incidental, as much as I like educational books that entertain.
While many of his plot points weren't predictable, Mr Lansdale also has a way of taking you through the predictable ones in an unpredictable way. There was a point where some major drama was about to unfold, and I didn't want to read it, expecting it to be handled the way most other authors would: as a high drama point, with lots of tension build up (usually ineffectual because the reader knows what's coming most times anyway), and a run-of-the-mill description of the cataclysmic event. But not Mr Landsdale – he didn't waste my time trying to wring every last vestige of emotion out of me. I think he's smart enough to understand that if the reader is still there by that stage, they care – and don't need him to make it unnecessarily, and tackily, worse.
Following Paradise Sky, I bought Honky Tonk Samurai, which I also enjoyed, although I probably should have started with the first in the Hap and Leonard series, not the last! (Note to self: do your research first; don't just buy books because you like the title!)
In short: highly recommended as an enjoyable read from a refreshingly original author!