If you're an Aussie author planning on self publishing, then you may have heard the term 'legal deposit' during your research. For many authors, the term 'legal deposit' seems scary – as if you'll get into trouble if you don't do it. So what does it actually mean?
Quite simply, legal deposit means you need to send a copy of your published book to the National Library of Australia (NLA) in Canberra so that your book will always be available for future generations. And depending on the state or territory in which your book was published, you may be required to submit a copy to other libraries as well, depending on whether it's in print or ebook format.
Do I have to submit my book for legal deposit?
In short, yes, but there's no actual penalty if you don't.
If you've created your book as a very private document and you haven't purchased and assigned any ISBNs to it, then you don't need to carry out legal deposit. (Although under certain circumstances you may choose to.)
However, if you have assigned an ISBN to your book, then you really should complete the legal deposit requirements. And even if you haven't assigned an ISBN, it's still great to send a copy to the NLA so that there's one held in their archives. You just never know – what if a descendant or researcher stumbles across it in a hundred years' time? They'll have your 'voice' on the page, and you've left behind tangible evidence of your existence and your thoughts, no matter the topic. Can you imagine finding a book written by your great-great grandparent? Whether fact or fiction, you could learn so much about them, apart from just the thrill of finding a treasure like that!
One side benefit of legal deposit is that it can help protect the copyright in your work. Legal deposit itself isn't a copyright registration (we don't have that in Australia), but it does record when the book was published and received, thus providing evidence of its existence at a certain point in time. (For more on copyright, visit the Copyright Agency here: https://www.copyright.com.au/ )
Plus, I think it's great that 'we, the people' have the chance to put our versions of events on the record, too. Legal deposit means that not just the 'official record' of our times is going to form our history, but there will be other views and perspectives available to future historians. So if you've written a memoir or research of your own of any kind, that could be invaluable in providing an alternative or corroborative viewpoint on things in the future.
If you haven't purchased and assigned an ISBN to your book, you're still encouraged to submit a copy of your book for posterity. The same applies for a private publication. A book doesn't have to be available to the general public – you're still welcome to send in a copy of a book which was only distributed amongst family and friends.
How do I submit my book for legal deposit?
Step 1: Prepublication tasks
Your first step is to register your book with the NLA's Prepublication Data Service just prior to your release date. This applies to ebooks as well, so even if you're not having a print version, you should still register your book with the Prepublication Data Service.
You don't want to do it six months out – wait until you've got your ducks lined up e.g. editing's been done, layout/formatting has been done, cover's been designed and you're just a week or two away from ordering a printed proof or uploading your ebook to an ebook platform.
Visit the NLA's Prepublication Data Service site at https://www.nla.gov.au/content/prepublication-data-service and click 'Apply now'.
You'll need to supply some basic details such as:
a contact name
your email address
your publisher's name (usually yours unless you've registered a business name)
your publisher imprint (if you've registered a publisher name which is different to your business name)
what type of publisher category you fall under (usually Individual / Self)
book details such as title, subtitle, ISBN, format, estimate retail price, format, expected year and month of publication, genre, subjects, author and other contributors, other formats – the page leads you through the questions.
Once you've completed your application, click 'Submit' and then check your email – you should receive a notification within a few minutes summarising a bit about your application and providing you with an application number.
Why should I register my book on the Prepublication database?
Unless you're creating a truly private publication, you'll want all the help you can get to market your book – assuming you'd like people to buy it. Registering your book on the Prepublication database is no magic bullet, but it means that information about your book will be made available to more than a thousand Australian libraries and library suppliers, creating greater exposure for it which will help increase its sales potential.
There is no legal requirement to use the Prepublication Data Service, but as it's a free service you'd be mad not to!
And you can register ebooks for prepublication, too, so it's not just limited to print books.
Find more information and answers to your questions (FAQs, 'Is my publication eligible', etc.) at the Prepublication Data Service here: https://www.nla.gov.au/pds/faqs
Step 2: Post-publication tasks
Once you receive your printed proof and decide that you're going with a print run, or you're going to release it as print on demand, that's when you need to carry out legal deposit.
When you order your initial copies, make sure to add a few extra for legal deposit. You'll need one copy to send to the NLA, and then at least one more copy for your state or territory library, but some states have other libraries requiring copies, too. Check out your state or territory's requirements here: https://www.nla.gov.au/legal-deposit/australia-wide
Bear in mind that the state or territory in which the book was published is the state or territory which applies. So it's not necessarily the state or territory that the author lives in.
Now you just need to get the addresses of the various libraries (at the link above), type up a covering letter stating the title and ISBN of your book and explain that you're delivering it for legal deposit, and pack and post it. Don't forget to add your contact details to the letter e.g. email address at a minimum, if not a postal address and/or phone number, so that the libraries can send you a receipt or get in touch if there's a problem.
My book will only be an ebook, there is no print version
Easy-peasy! You can deposit a copy of your ebook via the NLA's Electronic Deposit Portal here: https://ned.gov.au/portal/
You will have the choice of making your ebook available for borrowing, or restricting access to library visitors only, so if you've released your ebook commercially and don't want to risk undermining any contract with your ebook retailers, you can choose the level of public access from 'openly on the internet' to 'onsite only within the National Library and applicable State/Territory libraries'. Choosing 'onsite only' means the item can be viewed, but not downloaded or printed at any point in time.
What if I'm using a self publishing service?
Some self-publishing facilitators will carry out legal deposit for you, so check with them first – no point in going through the process yourself if they've already done it for you!
At IndieMosh, we carry out legal deposit and prepublication registration on behalf of authors using our ISBNs.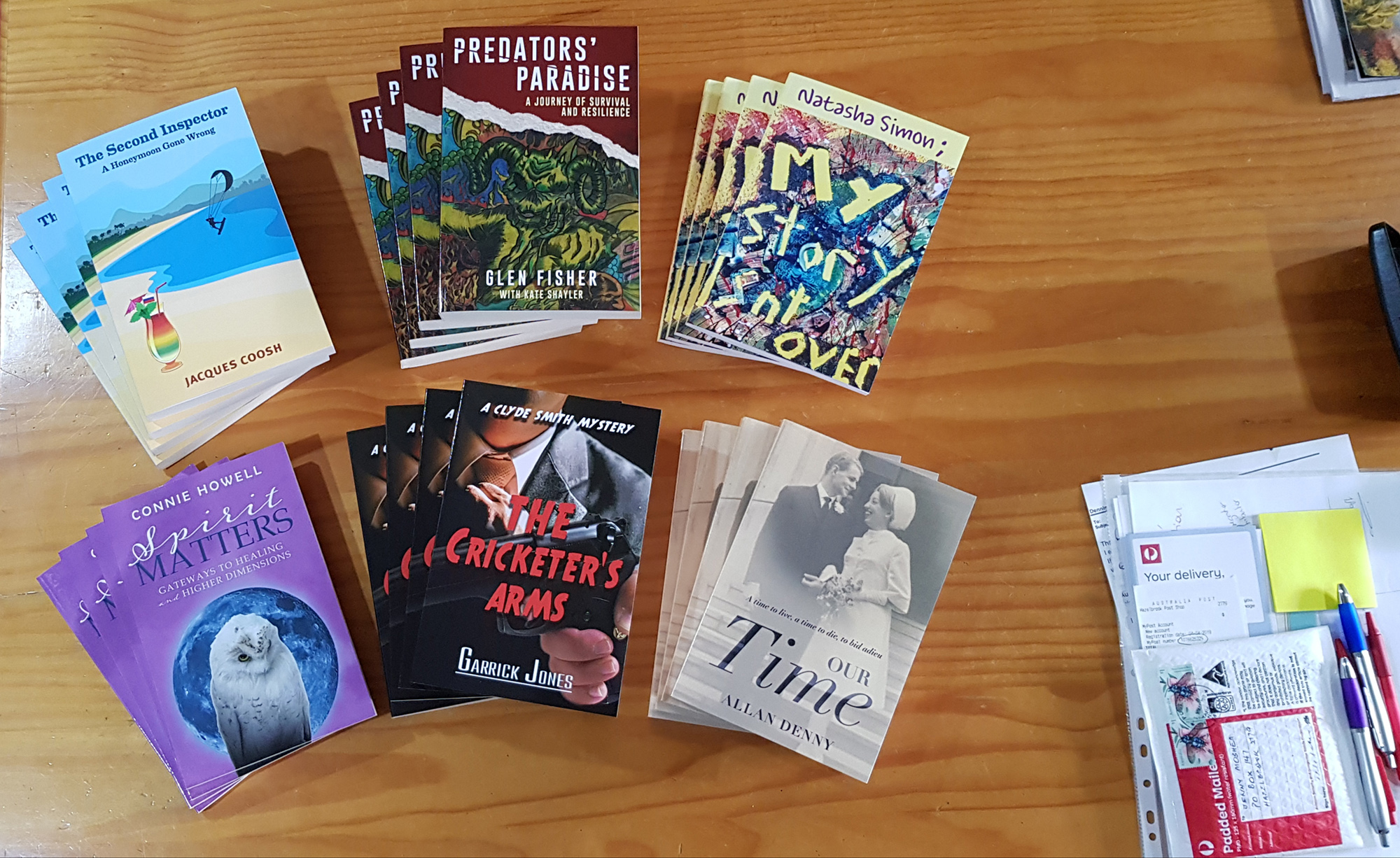 Getting the head around it
The steps are pretty simple; it just seems confusing if you've never done it before. So, in summary, and assuming you're not using a self-publishing facilitator who will do the work for you:
When your book is close to release, register it with the National Library's Prepublication Data Service. Find out more here: https://www.nla.gov.au/content/prepublication-data-service
Once the book has been released:


if it's only an ebook, then register and upload it to the National Edeposit portal here: https://ned.gov.au/portal/

if it's only a print book, or if it's a print and ebook issue, send print copies to the relevant libraries according to this list here: https://www.nla.gov.au/legal-deposit/australia-wide And yes, if you're in New South Wales, we have the most onerous legal deposit commitment – including the NLA, four libraries in total! But if you've had the confidence to write a book, then you should also have the confidence to send it off for posterity. 🙂
What do legal deposit and prepublication registration cost?
Nothing! Nada. Zilch. Only your time, and the cost of print copies and postage if you release a print book.
So what are you waiting for? Go – get that book lodged as part of this country's national heritage. The National Library in particular will thank you, as will the researchers and historians of our future generations.